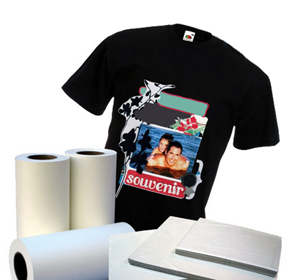 Sublimation Paper
Premium sublimation ink transfer paper.
Select from sheets or roll sizes in the drop down menu below.
Premium Ultra High Release Paper
has a 90% or higher release of ink to paper ratio providing you the best bang for your buck and gives you vibrant, sharp, stunning quality sublimated images. Don't settle for second best for pennies less per sheet. We carry a wide range of premium grade sublimation paper types specifically for ink jet sublimation.
Please be aware that if you are using another paper brand that we cannot assure the outcomes like we can if you are using our high release paper. We have experimented with other companies and have found this sublimation paper to be the best for our sublimation inks.
Sheet sizes:
8.5″ x 11″ cups, tiles, ornaments, phone covers.
8.5 x 14″ great for license plates.
11″ x 13″ standard T-shirts.
13″ x 19″ Large T-shirts.
Roll sizes:
17″ x 100′
17″ x 250′
24″ x 100′
24″ x 250′
36″ x 100′
36″ x 250′
44″ x 100′
44″ x 250″
60″ x 100′
60″ x 250′
Printer Instructions:

Print to the bright white side of the paper for optimal image outcomes.
In printer properties select "Epson Vivid" as the color profile.
In paper options select "Premium Presentation Paper Matte".
Select "Photo or Best Photo" for your print quality.
Place a checkmark in "Mirror Image or Reverse Image".
Print.

Sublimation ink transfer paper for Cotton and Blends.
Cotton transfer papers for light t-shirts for sublimation,
Cotton transfer papers for dark t-shirts for sublimation.
| | |
| --- | --- |
| SELECT PAPER SIZE | 8.5" x 11" x 100 Sheets, 8.5" x 14" x 100 Sheets, 11" x 13" x 100 Sheets, 13" x 19" x 100 Sheets, 17″ x 100′ Roll Paper, 17″ X 250′ Roll Paper, 24″ x 100′ Roll Paper, 24″ x 250′ Roll Paper, 36″ x 100′ Roll Paper, 36″ x 250′ Roll Paper, 44″ x 100′ Roll Paper, 44″ x 250′ Roll Paper, 60″ x 100′ Roll Paper, 60″ x 250′ Roll Paper |