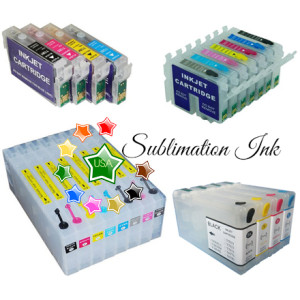 Sublimation Ink Cartridges
Sublimation refillable ink cartridges filled with high quality sublimation inks.
Please see the cartridge quantities for Desktop and Wide Format printers below.
Nitrochrome sublimation ink cartridges for desk top printers.
Sublimation refillable ink cartridges filled with highest quality Nitrochrome sublimation inks.
Our cartridges use the latest technology ARC chips that allow you to refill your cartridges an unlimited amount of times.
Nitrochrome Sublimation inks have enhanced UV performance, enhanced vibrancy and depth, accurate colors from cartridge to cartridge and are extremely user friendly. We are proud to offer you the best there is in a an industry that has had a lot of questions about quality and complexity. That is now all gone and we are here to deliver to you the finest sublimation ink the industry has to offer.
Our inks and cartridges are very user friendly. When you purchase our sublimation ink cartridges you will get photo illustrated simple instructions. Simply prime, install and start printing. It's that easy.
Refilling is also very easy and with most Epson printer models can be done right in the printer.
When you purchase the pre-filled refillable sublimation cartridges for your Desktop Printer you will get between 12 to 15 ml. of ink per cartridge depending on printer model.
You will also receive instructions, filling syringe and needle.
Epson Wide Format sublimation cartridges.
When you purchase Epson Wide Format sublimation cartridges you will get refillable cartridges and the ink in 4 oz. bottles that you will pour through the provided funnel into the cartridges and a chip resetter so that you can keep reusing the cartridges.
When you purchase the refillable cartridges and inks for the Wide Format Printer you will receive 8 oz refillable cartridges with a funnel, a chip resetter and 1 x 4 oz. bottle of each ink color for your model printer.
Our friendly helpful staff is here to help you with any questions you might have.
| | |
| --- | --- |
| Select Printer Model | Epson Expression XP-100, Epson Expression XP-200, Epson Expression XP-300, Epson Expression XP-400, Epson WF-30, Epson WF-40, Epson WF-60, Epson WF-310, Epson WF-315, Epson WF-320, Epson WF-325, Epson WF-435, Epson WF-500, Epson WF-520, Epson WF-545, Epson WF-600, Epson WF-610, Epson WF-615, Epson WF-630, Epson WF-635, Epson WF-645, Epson WF-840, Epson WF-845, Epson WF-847, Epson WF-1100, Epson WF-2520, Epson WF-2530, Epson WF-2540, Epson WF-3520, Epson WF-3540, Epson WF-7010, Epson WF-7510, Epson WF-7520, Epson NX100, Epson NX105, Epson NX110, Epson NX115, Epson NX125, Epson NX127, Epson NX200, Epson NX215, Epson NX300, Epson NX305, Epson NX400, Epson NX415, Epson NX420, Epson NX510, Epson NX515, Epson NX625, Epson Stylus C64, Epson Stylus C66, Epson Stylus C68, Epson Stylus C84, Epson Stylus C86, Epson Stylus C88, Epson Stylus C88+, Epson Stylus CX3800, Epson Stylus CX3810, Epson Stylus CX4200, Epson Stylus CX4400, Epson Stylus CX4450, Epson Stylus CX4600, Epson Stylus CX4800, Epson Stylus CX5000, Epson Stylus CX5800F, Epson Stylus CX6000, Epson Stylus CX6400, Epson Stylus CX6600, Epson Stylus CX7000F, Epson Stylus CX7400, Epson Stylus CX7800, Epson Stylus CX8400, Epson Stylus CX9400, Epson Stylus CX9475, Epson Artisan 50, Epson Artisan 700, Epson Artisan 710, Epson Artisan 800, Epson Artisan 810, Epson Artisan 1430, Epson Stylus Photo R200, Epson Stylus Photo R220, Epson Stylus Photo R260, Epson Stylus Photo R280, Epson Stylus Photo R300, Epson Stylus Photo R320, Epson Stylus Photo R340, Epson Stylus Photo R380, Epson Stylus Photo R2400, Epson Stylus Photo R2880, Epson Stylus Photo R3000, Epson Stylus Photo RX500, Epson Stylus Photo RX510, Epson Stylus Photo RX580, Epson Stylus Photo RX595, Epson Stylus Photo RX600, Epson Stylus Photo RX620, Epson Stylus Photo RX680, Epson Stylus Photo 900, Epson Stylus Photo 1280, Epson Stylus Photo 1400, Epson Stylus Photo 2200, Epson Stylus Color 3000, Epson Stylus Pro 4000, Epson Stylus Pro 4800, Epson Stylus Pro 4880, Epson Stylus Pro 7600, Epson Stylus Pro 7800, Epson Stylus Pro 7880, Epson Stylus Pro 9600, Epson Stylus Pro 9800, Epson Stylus Pro 9880 |