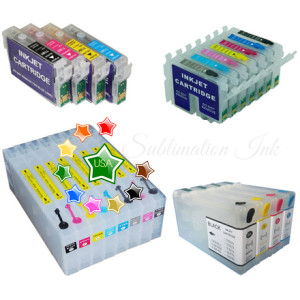 Epson Cleaning Cartridges
Cleaning Cartridges for Epson Printers for Flushing.
Epson cleaning cartridges are designed to flush out old inks from the print head and or rubber lines that run to the print head. This is highly recommended when turning an older printer into a sublimation printer or switching from one sublimation ink manufacturer to another. Most inks are not chemically compatible to each other and so when moving from one ink to another the cleaning cartridges should always be used.  If you are starting with a brand new printer, Epson requires initializing the printer with the Epson cartridges. Once completed you can successfully make the switch to sublimation inks without difficulty however switching back and forth will not work without aide of cleaning cartridges.
Cleaning Cartridges for Epson Printers for Maintenance.
With prolonged use your printer over time will start to drop nozzles as you print. This is caused by a build up of dried inks that over time accumulate around the print head nozzles. Another frequent problem that develops is the capping station gets gummed up with inks that are sucked through the print head during a cleaning cycle. Over time the rubber perimeter dam around the capping station becomes dirty and encrusted with old dried ink resulting in a poor air seal around the print head allowing the ink to dry at the nozzle. If you return on Monday and fire up the printer and noticed that some nozzles quite firing over the weekend then you have a dirty capping station.
Cleaning Cartridges for Epson Printers for Unplugging Nozzles.
When our cleaning cartridges are used for unplugging nozzles then there are a couple of things to take into consideration. First the type of ink. Our cleaning cartridges work very well in dissolving almost all water based inks with the exception of sawgrass inks and artanium. If you have need of a special cleaner for these 2 inks, please contact us and we can set you up. Another factor is how long has the printer been plugged? The longer the nozzles have been plugged the longer it will take to unplug. The cleaner is a slow acting cleaner that gradually softens the hardened deposits. We have taken printers that have been shelved for 7 years and after 30 days of allowing the cleaner to simply sit in the printer, completely restored the print head. Running repeated cleaning cycles is a poor and ineffective way to use the cleaning cartridges. The most effective way is to first prime the cartridges according to the directions, install cartridges, return the print head and then wait 12 hours. Now run a nozzle test and if necessary 1 cleaning cycle and more more nozzle check. If the printer has only been plugged for a short time then nine times out of ten you will have a perfect nozzle test. If the printer has been plugged for a long time then simply waiting a week or longer will be the most effective way to unplug the nozzles. Our desktop cleaning cartridges are refillable cartridges using the latest ARC chip technology. The cartridges are easily refilled and the chips will reset to full. These cartridges can also be reused to work as ink cartridges. Simply use the provided syringe and flush the tinted cleaning fluid out of the cartridge and replace with ink. Epson cleaning cartridges are not an Epson OEM product and are not manufactured by Epson.
Wide Format Epson Cleaning cartridges.
Because we are able to purchase refillable cartridges for about the same price as the one time throw away cartridges we are providing those for our customers. This will allow you to you these cartridges as ink cartridges as well. We will ship in your order a 1 Quart bottle of the cleaner which is simply poured with a provided funnel into the refillable cartridge.
| | |
| --- | --- |
| SELECT PRINTER MODEL | Epson Expression XP-100, Epson Expression XP-200, Epson Expression XP-300, Epson Expression XP-400, Epson WF-30, Epson WF-40, Epson WF-60, Epson WF-310, Epson WF-315, Epson WF-320, Epson WF-325, Epson WF-435, Epson WF-500, Epson WF-520, Epson WF-545, Epson WF-600, Epson WF-610, Epson WF-615, Epson WF-630, Epson WF-635, Epson WF-645, Epson WF-840, Epson WF-845, Epson WF-847, Epson WF-1100, Epson WF-2520, Epson WF-2530, Epson WF-2540, Epson WF-3520, Epson WF-3540, Epson WF-7010, Epson WF-7510, Epson WF-7520, Epson NX100, Epson NX105, Epson NX110, Epson NX115, Epson NX125, Epson NX127, Epson NX200, Epson NX215, Epson NX300, Epson NX305, Epson NX400, Epson NX415, Epson NX420, Epson NX510, Epson NX515, Epson NX625, Epson Stylus C64, Epson Stylus C66, Epson Stylus C68, Epson Stylus C84, Epson Stylus C86, Epson Stylus C88, Epson Stylus C88+, Epson Stylus CX3800, Epson Stylus CX3810, Epson Stylus CX4200, Epson Stylus CX4400, Epson Stylus CX4450, Epson Stylus CX4600, Epson Stylus CX4800, Epson Stylus CX5000, Epson Stylus CX5800F, Epson Stylus CX6000, Epson Stylus CX6400, Epson Stylus CX6600, Epson Stylus CX7000F, Epson Stylus CX7400, Epson Stylus CX7800, Epson Stylus CX8400, Epson Stylus CX9400, Epson Stylus CX9475, Epson Artisan 50, Epson Artisan 700, Epson Artisan 710, Epson Artisan 800, Epson Artisan 810, Epson Artisan 1430, Epson Stylus Photo R200, Epson Stylus Photo R220, Epson Stylus Photo R260, Epson Stylus Photo R280, Epson Stylus Photo R300, Epson Stylus Photo R320, Epson Stylus Photo R340, Epson Stylus Photo R380, Epson Stylus Photo R2400, Epson Stylus Photo R2880, Epson Stylus Photo R3000, Epson Stylus Photo RX500, Epson Stylus Photo RX510, Epson Stylus Photo RX580, Epson Stylus Photo RX595, Epson Stylus Photo RX600, Epson Stylus Photo RX620, Epson Stylus Photo RX680, Epson Stylus Photo 900, Epson Stylus Photo 1280, Epson Stylus Photo 1400, Epson Stylus Photo 2200, Epson Stylus Color 3000, Epson Stylus Pro 4000, Epson Stylus Pro 4800, Epson Stylus Pro 4880, Epson Stylus Pro 7600, Epson Stylus Pro 7800, Epson Stylus Pro 7880, Epson Stylus Pro 9600, Epson Stylus Pro 9800, Epson Stylus Pro 9880 |